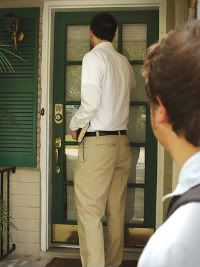 Latter-day Saints have a strong missionary tradition that commenced from the very first days of the Church. We are known in many countries for our proselyting missionaries. For a long time I only knew of one other denomination that sent proselyting missionaries around, and that was the Jehovah's Witnesses. But in the past few years my door has been knocked upon by various Christian missionaries. When we lived in Vernal, there was even an evangelical group who went around specifically to convert Mormons away from their beliefs.
I have always enjoyed my discussions with these proselyting missionaries. Once I met with a set of Jehovah's Witnesses for several weeks. Through studying with them, I gained a greater understanding of the use of the Tetragrammaton in the Old Testament. I was privileged to be invited to their worship service, and I observed with interest their unique procedures in partaking of the Sacrament. Christian missionaries have provided wonderful examples for me in charity and being personally involved in projects to benefit the underprivileged. And Fundamentalist missionaries, while rare today, helped me appreciate our unique restoration heritage when they stayed with us for a few days in the early 1980's.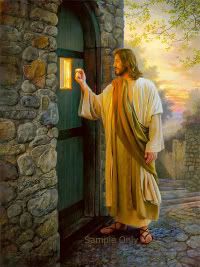 Since our Church consists of so many converts, myself and Dr. B. among them, it is obvious that if these members hadn't been willing to entertain the missionaries--to let them in the door and listen to them, they would never had had the opportunity to hear the restored gospel and join the Church. But now that they are baptized members, should they shut their doors to missionaries of other faiths?
I am of the opinion that one should always hold an open mind when it comes to matters of religion. If we honestly seek the truth, we must be open to any conclusion. Our scriptures urge us to look for truth and knowledge wherever it may be found. I think that this includes in discussion with and examination of other faith traditions. People are generally afraid of uncertainty. They hesitate to challenge their secure world view, a view which is supported by the other members of their religion. But speaking with others with different paradigms and challenging our own assumptions is important. Religion is a search for truth, not a search for security, pleasure, friendship or approval.
That is why, when members of other religions knock on my door, I invite them in.