I hate to say this, but Church meetings are sometimes downright BORING. One Sunday I found myself staring at the clock on the wall, willing that big hand to move, and chewing my hair wondering if I could possibly sit in the room for one more minute.
I'm not quite sure how things have changed since my young adulthood in the Church, when I attended two ward's full meeting schedules and firesides, often for a total of 10 hours in Church on a Sunday. And I loved every minute of it.
Was it the rollicking fun of Relief Society, as we discussed mother education, cultural refinement, spiritual living and social relations, topics and lessons which had been selected and written by women for women? Was it the disregard of teachers for prepared lesson materials when they felt inspired to delve into the off-topic comments of interest to their students? Was it the class participation, the innovative sermons which were never expected to be based on General Conference talks?
Back then the jokes told about Gospel Doctrine class didn't revolve around "Sunday School answers," they invoked the amusing speculative comments in which the High Priests indulged. I'm afraid that by encouraging correlation and doctrinal conformity, we have only succeeded in boring our members to death. What can be done?
In a previous ward, I attempted to enliven Sunday School by heavily researching the topic to be discussed, then bringing up interesting and controversial points for which I was certain the teacher would not be prepared. This added a bit of amusement to my day. But I soon repented of my folly. Unfortunately now I find myself retreating into extra-curricular literature. A couple of weeks ago I went out to the car during a particularly boring lesson, and emerged with the only bit of reading material to be found: my 10-year-old daughter's novel on dragon magic. It got me through the rest of SS as well as a 5th-Sunday combined meeting on preparedness.
I haven't yet succumbed to texting, to games of tetris, or to surfing the internet on my iphone yet. But I have seen plenty of other members surreptitiously using these methods of entertainment to relieve their agony. I can't say I blame them, but I want to resist surrendering my expectation of powerful, interesting, affirming, spiritually motivating LDS meetings. What is to be done? Is my angst over this issue simply a function of my age and having been through the four-year cycle of Church curriculum one too many times?
Recently I read an ad campaign for the United Methodist Church which read: "What if church wasn't just a building, but thousands of doors? Each of them opening to a different concept or experience of church. So that whoever knocks might find a journey to call their own. Would you come?" For some reason that paragraph reminded me of Joseph Smith. I like to imagine that each of his sermons opened the doors of thousands of possibilities for his listeners. He showed us a new way of looking at so many things. How can we reclaim that excitement of the early days of the Church, when there were tongues of fire in the Kirtland temple, handkerchiefs bringing healings, and thousands of people willing to die on the plains for a religion that had captured their souls?
What if Church was more like Dentyne??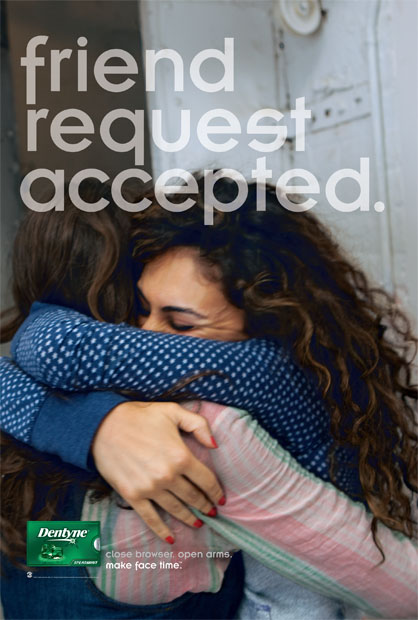 What if Church was more like milk?
What if Church was more like Starbucks??
What if Church was more like PostSecret?